With this current Spurs side on the brink of actually, maybe, achieving something, 90maat thought it would be fun to take a look at what might have been as we assemble the most calamitous Tottenham team of the Daniel Levy era!
Manager: Juande "One Day" Ramos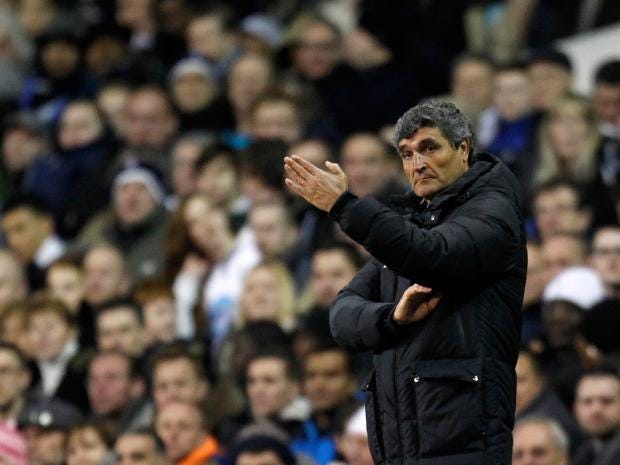 It all started so well for the Spaniard as he led Spurs to a League Cup win and UEFA cup qualification in his first season in charge. Unfortunately for Ramos, his great start to life at Tottenham's helm was not to last. After 8 games and 2 points in the 2008/2009 season, he was promptly sacked.
What exactly went wrong for "One Day" Ramos isn't clear. Like many at Spurs, he somehow managed to land on his feet, taking the managers job at Real Madrid, not that his time there was any better, only lasting till the end of the season.
Ramos' calamitous fall from grace at Spurs makes him the perfect candidate to lead this cretinous crew of failures into the breach.
Formation: 4-3-3
Goalkeeper: Heurelho Gomes
Heurelho Gomes, Mr calamity himself. A man with a mythical ability to defy the laws of nature and pull off jaw dropping saves, and yet equally able to spill a pea roller through those gangly arms of his and into his own net.
All we know is, he is without question Spurs' Calamity XI number 1.
Left Back: Gilberto
What can be said about Gilberto, a player who arrived at the Lane with plenty of promise, and apparent pace and skill to burn down the left flank.
Unfortunately, the poor lad appeared to be largely confused as to where on the pitch he was supposed to be playing on more than one occasion.
Often miles out of position with zero ability to block crosses or make tackles, Gilberto is without doubt the man to shore up the left side of defence in this Calamity XI.
Centre Back: Vlad "The Impaler" Chiriches
Vlad Chiriches was signed from some team in Romania as one of the magnificent 7 to arrive with the Gareth Bale money. Hyped as an all action, all conquering and all adventuring CB, he arrived to an excited Spurs faithful along with 6 of his compadres from across the seas.
My memories of Vlad's time at the Lane mostly consist of him being sat on his back side, tripping himself over his noodly legs, and passing the ball straight to the opposition.
Allegedly he's doing alright in Napoli at the moment, he scored a screamer from his own half in 2017. Still not sure if he's able to stand up straight in a light breeze yet however,  but he may still make a career for himself.
Centre Back: Sebastien Bassong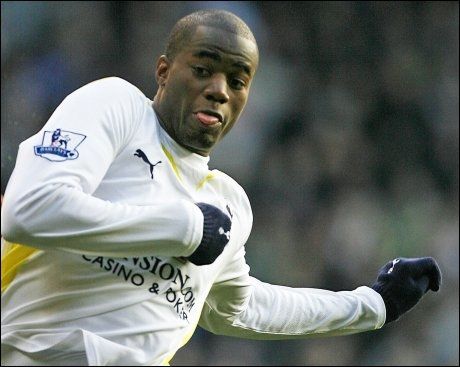 There is a long line of calamitous CBs that have plied their trade at White Hart Lane. But Bassong's calamitous nature lays in the fact that he seemingly could have been half decent. Unfortunately, Bassong never really cut the mustard at Spurs, or, in fact, anywhere else he's played.
Lacking any degree of technical ability, or a reading of the game, Bassong was often caught napping or simply ill-equipped to deal with threats that came his way. Bassong is the perfect embodiment of unreliability to partner Vlad in our Calamity XI
Right Back: Paul Stalteri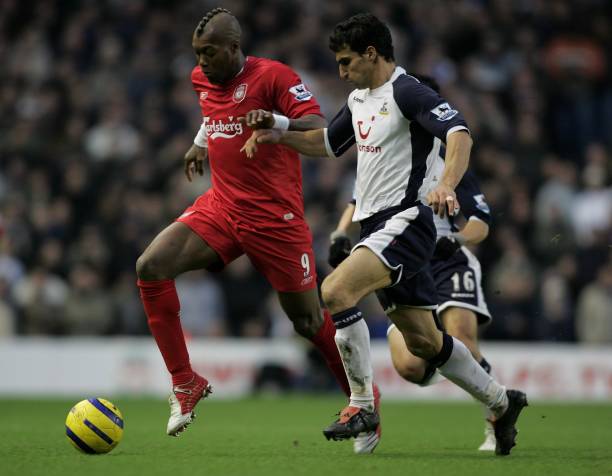 The ultimate in calamitous right backs, the Canadian made more errors in a Spurs shirt than a chimp on a typewriter.
I am trying to think of at least one positive thing to say about this monument to footballing calamities, but I really can't think of one. I suppose he was a nice bloke.
Anyway, Stalteri would certainly find himself as one of the first names on Juande Ramos' Calamity XI team sheet.
Holding Midfield: Benjamin Stambouli
I will never forget watching transfer deadline day late into the night as Spurs sold Lewis Holtby and Sandro. Two of my favourite players in a Spurs shirt at the time. And who did Pochettino draft in to replace them? Benjamin Stambouli.
I knew this was going to be trouble when Sky Sport's highlight reel of the Frenchman appeared on the screen. While other players get a montage of great goals, assists, tackles and passes, Stambouli's glorifying reel consisted of him sluggishly meandering off the bench for Montpellier in some random cup game.
His highlight reel of his time at Spurs wouldn't consist of much more than that either. While not especially calamitous, his utter uselessness gets him a starting spot in this Calamity XI.
Surprisingly, and for some strange reason like many other Spurs failures, he managed to land on his feet quite happily after securing himself a move to french giants PSG. Although that didn't last long either, and Stambouli is now creating more highlight reels of substitutions at Schalke.
Midfield: Moussa Sissoko
The first current Spurs player on the list, and I'm sure people will argue that there's plenty of others who should be here instead.
But let's be honest here, Sissoko is an absolute calamity. From the look of surprise on his face every time he accidentally controls the balls with his shin, to his inability to finish and having the vision of an amoeba. The guy is simply terrible.
His calamitous nature is highlighted even further by that one in a thousand occasion he actually pulls of something useful. I guarantee Spurs fans will look back at Sissoko as one of our most calamitous players.
Having said that, Sissoko holds a strange soft spot for me in my heart. Spurs fans seem oddly unique in our ability to love and support our calamitous stars, and Sissoko is no different. The reason being that he tries really, really, really hard. Unfortunately, that doesn't change the fact that he is the perfect man to partner Stambouli in our Calamaty XI midfield.
Midfield: Paulinho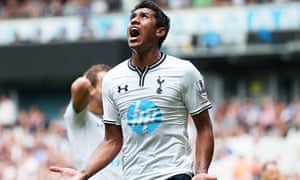 The fact that Paulinho is currently playing, and starting regularly, for Barcelona is an absolute myth. It is honestly one of life's great unanswered questions. For Spurs fans it must have been amusing to watch Paulinho against Chelsea last night as he appeared to be back to his calamitous ways. What Barcelona see in him I will never know.
The guy was shockingly hilarious during his time at Spurs, wayward passing, bizarre attempts on goal and a total lack of defensive commitment has led to Paulinho joining the ranks of Tottenham's Calamitous XI.
Left Forward: Roberto "Bobby" Soldado
The name Soldado is more of a parody these days among the Spurs faithful. But they, and myself, could hardly contain our excitement when his £26m signing was announced in 2013. Arriving alongside another Calamity XI star in Vald Chiriches, Soldado started slowly, and only got worse.
Youtube highlight reels of his best/worst clangers go to show just how utterly hopeless the former Spanish international was at Tottenham.
But much like Sissoko, Bobby will always hold a special place in my heart. He tried bless him. One of my abiding memories of Soldado was a Europa league home tie against Fiorentina. Talking to the fans next to me in the stands before the game, we were saying how great it would be if Bobby could get a goal. The rapturous celebrations that rang around the Lane when Soldado sweetly struck a half-volley into the corner of the Fiorentina net were testament to his character and to the Spurs fans' willingness to support players who are putting the work in.
Despite that memory, poor Bobby was abysmal, go watch the videos, they're hilarious.
Right Forward: Vincent "Soldado 2.0" Janssen
The first time I saw Vincent Janssen in a Spurs shirt, an ominous sense of foreboding came over me. Wearing Soldado's number 9 shirt, the Dutchman bore an unnerving resemblance to the Spaniard.
And how right I had been. Janssen, much like Soldado, can claim fame from YouTube montage's of his many calamitous misses, poor touches and over hit passes. Slow and lumbering on and off the ball, Janssen was never going to hit the heights he had achieved in his one season in the Eredevisie.
Currently on loan at Fenerbahce, he hasn't improved, and it seems unlikely that "Soldado 2.0" will be a Spurs player in the future.
Centre Forward: Fernando "Soldado 3.0" Llorente
Until recently I had high hopes for Llorente. A man with experience at the highest levels, a proven goal scoring record both in the Premier League and overseas. He came offering Spurs an alternative way of attacking an opposition dug in deep in their box.
Yet, once again, the curse of Soldado has struck, and from his last few outings for Spurs I have come to accept that Llorente is in fact the 3rd reincarnation of Soldado's ghost, ungracefully taking the title of "Soldado 3.0".
The Spaniard may yet turn good, although he himself is starting to develop a long rap sheet of calamitous misses, and promptly joins what is frankly a terrifyingly horrendous front 3 in this Spurs Calamity XI.
That about does it for this Calamity XI. What a team that would be! I might get on FIFA 18 in a moment and play a game with this cretinous bunch.
Check into 90maat for this weekends Premier League previews, reports and analysis.
Written By Chris Wyles